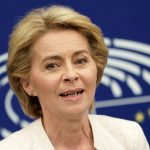 "We will present a new European Chips Act," said von der Leyen, "the aim is to jointly create a state-of-the-art European chip ecosystem, including production that ensures our security of supply and will develop new markets for ground-breaking European tech."
The hope would be to co-ordinate R&D, funding and a 'state of  the art ecosystem' across member states.
The EU needs to "be bold again" she said in taking on such "a daunting task" as she called it.
No budget for chip design or manufacturing was mentioned.
EC industrial strategy commissioner Thierry Breton says the initiative should endure that "national efforts can be integrated in a coherent European vision and strategy" and "avoid a race to national public subsidies." 
He suggests that the EU establish a "dedicated European Semiconductor Fund."