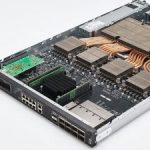 Tractable and Graphcore are working together to accelerate the use of AI in accident and disaster recovery.
Tractable – whose technology makes assessing damage to cars and property more accurate and efficient – achieved a 5X performance improvement with its image recognition system by switching from its existing compute platform to Graphcore's IPU.
The dramatic acceleration lets Tractable's engineers more rapidly iterate model training to accommodate different vehicle types and a wider range of policy criteria, as the business adds new users around the world.
"Tractable's systems are always learning, based on a wealth of incoming data. That means constant training and re-training of our AI models to provide the best possible service to our customers," said Razvan Ranca, Co-Founder and CTO of Tractable.
"The speedup that we get running computer vision training on the Graphcore IPU gives Tractable a significant competitive advantage. Tasks that might previously have taken a week, can now be done in a day, allowing us to scale faster, while maintaining a high level of accuracy."
Tractable's technology powers accelerated damage assessments for more than 20 of the world's leading insurance companies. Part of its remarkable success is down to its use of state-of-the-art computer vision models, which have been shown to perform significantly better on the Graphcore IPU than other types of processor, thanks to its AI-optimised architecture.
"Graphcore's IPU systems are ideally suited to Tractable's needs," said Tom Wilson, VP Product Management at Graphcore.
"The performance and efficiency that the IPU is able to deliver on today's most demanding workloads will help Tractable meet the compute needs of its rapidly growing customer base. At the same time, Graphcore's future-focused architecture will help Tractable develop new AI models and techniques, maintaining its lead in applying AI to understand damage to property and vehicles."
Tractable worked with cloud compute provider iomart and Graphcore Elite Partner Boston Limited to install its IPU-POD system.