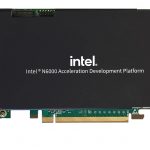 Mount Evans is Intel's first ASIC-based IPU. It was designed in collaboration with a Cloud Service Provider. CSP. It supports existing use cases – including vSwitch offload, firewalls, and virtual routing – while providing headroom for future use cases.
The device emulates NVMe devices at very high IOPS rates by leveraging and extending the Intel Optane NVMe controller. The same Intel infrastructure OS that runs on FPGA-based IPUs will run on Mount Evans as well.
Oak Springs Canyon is the follow-on to the  Big Spring Canyon platform. It is based on an Intel Agilex FPGA which works with servers based on Intel Xeon CPUs. It delivers the infrastructure acceleration needed to offload 2x100G workloads.
The device Is optimised for Intel CPUs including the Intel Open FPGA Stack – a scalable, source accessible software and hardware infrastructure that enables our partners and customers to create customized solutions. Its abilities and features are aligned to meet the needs of next-wave CSP deployments that will employ 100G networks.
Intel N6000 Acceleration Development Platform is an FPGA-based SmartNIC 100GbE network acceleration development platform (ADP). It builds upon the success of the Intel FPGA Programmable Acceleration Card (Intel FPGA PAC) N3000, which is currently deployed in data centers operated by some of the world's top Communications Service Providers (CoSPs).
Put is based on the Intel Agilex FPGA and the Intel Ethernet Controller E810. It is designed to be used with Intel-based servers and it supports several types of infrastructure tasks to help telco providers accelerate various workloads such as Juniper Contrail, OVS, and SRv6.
For more, see Guido Appenzeller (CTO of Intel's Data Platforms Group) here.