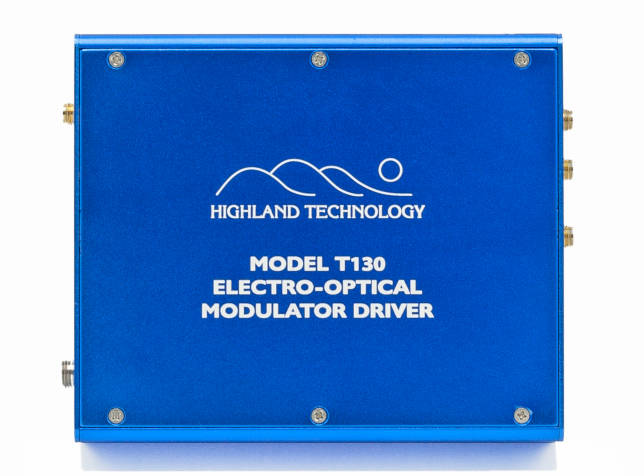 Called T130, output swing is adjustable from -500mV to -7V, ac coupled into 50Ω.
"Unlike typical telecom class electro-optical modulator driver modules specified for balanced data operation, the T130 output can swing up to 7V relative to baseline and is capable of driving high Vpi EOMs at low duties down to single-shot," according to the company. "T130 is an excellent method of controlling LiNbO3 – Mach-Zehnder slicers and similar 50Ω electrical-to-phase and amplitude optical devices."
A built-in edge-triggered generator is adjustable for delay and width, spanning 250ps to 300ns across three ranges. Jitter depends on which of the three delay settings are chosen. For short delays it can be as low as 3ps rms.
Control is through RS-232 and USB, and, in the absence of a computer, it can be manually controlled using on-board trimpots and switches.
It includes a bias tee injection Inductor for operation with single-port modulators – an adjustable -6V to +6V low-noise dc bias generator is included, as is a routing Relay and dedicated SMA bias jack to apply external bias to the RF pulse.
The bias SMA connector becomes a high impedance bias voltage monitor in internal generator mode. A 10:1 resistive pick-off enables monitoring the drive signal with a 50Ω oscilloscope.
A built-in self-test routine monitors internal circuitry for nominal levels and can trigger a fault detection
LED.
The enclosure is extruded aluminium and intended for benchtop or OEM use – an aluminium baseplate is included for surface mounting.
Power need is +24V dc at 250mA max. The Power input barrel connector is locking.
Highland Technology is based in San Francisco.