The £50m comes from UKRI's previously announced £170m Commercialising Quantum Technologies challenge.
The projects are
Aeon-Rb £2.5m
Led by HCD Research to develop accurate quantum clocks for national infrastructure.
Altnaharra (cryoelectronics for quantum circuits) £4.3m
Led by Quantum Motion Technologies, brings together experts in: superconductivity, ion traps, spin qubits, cryogenic equipment and measurement standards to develop a cryogenic chip for integrated qubit control and read-out, manufactured in a standard CMOS foundry.
AutoQT (autonomous quantum technologies) £5.3m
Led by Riverlane to control qubits. "To be commercially useful, we need to reliably and easily control hundreds or even thousands," according to UKRI.
Different types of qubits will be developed and controlled using an artificial intelligence system.
CIFS (calcium ion frequency standard) £2.1m
Led by TMD Technologies to develop a light weight small trapped ion quantum clock.
Developing an error corrected quantum processor solution for commercial quantum computing £5.6m
Universal Quantum  will collaborate with Rolls-Royce, Riverlane, Science and Technology Facilities Council (STFC) Hartree Centre and Imperial College London to develop a quantum computing platform that is more robust, more accurate and less reliant on cryogenic cooling. The novel computer will be applied to aerospace industry problems.
Development of cryo-CMOS to enable the next generation of scalable quantum computers £4.8m
SureCore will study challenges in scaling quantum computer production, including creating electronic technologies compatible with ultra-cold temperatures.
HYDRI (Hydrogen sensor for industry) £2.5m
Led by BP to develop quantum gas sensors for the roll-out of hydrogen as a domestic, industrial and transportation energy source.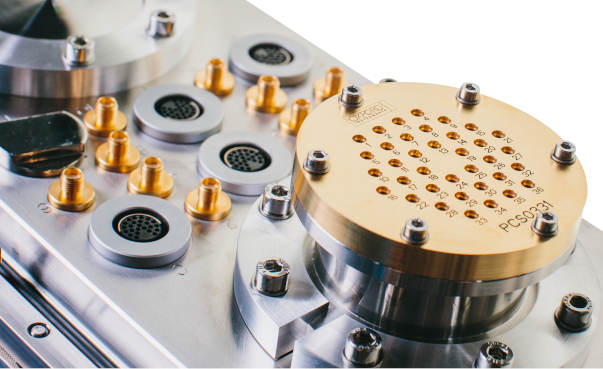 QuPharma (quantum enhanced computing platform for pharmaceutical R&D) £4.7m
Led by SEEQC UK and aimed at drug discovery using quantum computing, the consortium includes Merck, Riverlane, Oxford Instruments (photo right), University of Oxford, the National Quantum Computing Centre and STFC's Hartree Centre and Scientific Computing Department.
The quantum data centre of the future £9m
ORCA Computing will study how quantum computing can integrate with the data centres.
Towards a quantum enabled cloud £3m
Arqit will lead support the development of quantum-safe encryption technologies for satellite-based communication networks.
Underwater single photon imaging system £2.7m
Led by Sonardyne International, using photon detection to create high-resolution 3D maps of the sea floor for offshore wind energy, asset decommissioning, environmental monitoring and defence.
UpScale: scalable quantum information enabled by integrated optics £3.1m
Led by Fraunhofer UK Research and bringing together five commercial partners , to develop scalable quantum computing technologies.
Photo: Oxford instruments is participating in three of the projects